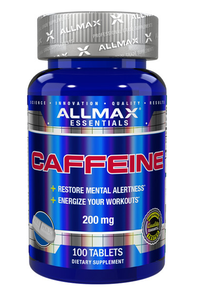 Allmax: Caffeine, 100 Tablets
ALLMAX Nutrition Caffeine Pills - Restore Mental Alertness, Energize Your Workouts, & Provides The Surge You Need To Maximize Your Training!
Warnings: For occasional use only. Caffeine is not advisable in cases of high blood pressure or pregnancy. Not intended as a substitute for sleep. The recommended dose of this product contains about as much caffeine as a cup of coffee. Limit the amount of caffeine containing medications, beverages (coffee, tea, colas) or foods (chocolate) as too much caffeine may cause nervousness, irritability, sleeplessness and occasionally, rapid heart rate.

Supplement Facts:

Serving Size: 1 Tablet
Servings Per Container: 100

Amount Per Serving:
Caffeine (anhydrous) 200mg

Other Ingredients:
Calcium sulfate dihydrate, dicalcium phosphate, compressible sugar, pregelatinized starch, microcrystalline cellulose, magnesium stearate, silicon stearate, silcon dioxide, stearic acid.