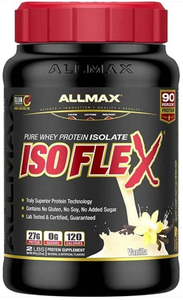 Allmax: IsoFlex 2lb
Best Whey Isolate Protein Powder - Allmax Nutrition IsoFlex Protein 2 Lbs
In need of a better protein powder? If you are working out and getting those hard gains, you need something top notch! You need the best protein power for your muscles and this is it! With almost no lactose and fat, this protein powder will help with faster recovery and give you energy to help you throughout the day! And this is 100% Whey Isolate with no fillers! Introducing Allmax Nutrition IsoFlex Protein!

What is AllMax IsoFlex?
IsoFlex from AllMax Nutrition is a 100% pure whey protein isolate with 27g of protein and is the best protein powder they have to offer! This protein has the highest purity out of all the others and has a lot of flavors to choose from. Time for some fat loss and muscle building with IsoFlex!
What is in Allmax IsoFlex?
IsoFlex is the highest purity protein powder that AllMax Nutrition has to offer. This is made with 100% whey protein isolate, unlike its siblings who has a concentrate/isolate blend. You also get 27g of protein for 30g serving. This isolate protein powder also has 90% protein yield and 0 g of sugar with amazing flavors! 
AllMax IsoFlex Whey Protein Isolate Benefits
Soy Free
0 Artificial Dyes and Colors
Amazing Flavors
Helps Build Muscles
Aids in Recovery
Increases Strength
27g of Pure Whey Isolate
90% Protein Yield
AllMax IsoFlex vs Optimum Nutrition 100% Whey
When shopping for protein powder, you have to make sure you get one that works with your body and has the best kind of protein. The biggest difference between Allamx IsoFlex and ON 100% Whey Gold Standard is that IsoFlex has 100% WHEY ISOLATE, when Optimum Nutrition has an isolate/concentrate blend. The purest form of protein is isolate, so right off the bat, IsoFlex wins. IsoFlex is also the highest purity in protein powders. Optimum Nutrition Gold Standard has 24g of protein, when IsoFlex has 27g. Optimum Nutrition has 5.5g of BCAA, IsoFlex has 5.9g. Overall, IsoFlex is the better protein! 
AllMax Isoflex Protein Directions
We recommend to mix 1 scoop with 1/2 cup of water or favorite drink. Drink anytime you need protein and or after a workout. 
AllMax IsoFlex Whey Protein Isolate Supplement Facts
Serving Size: 1 scoop
Servings Per Container: 30
Amount Per Serving
Calories: 110      
Total Fat:                             0.5g        1%
 Saturated Fat:                  0g           0%
 Trans Fat:                           0g          
Cholesterol:                       0mg       0%
Total Carbohydrates:      2g           1%
Dietary Fiber:                     1g           4%
Sugars:                                                 0g          
Protein:                                27g         54%
Calcium:                               107mg   11%
Iron:                                      1.4mg    8%
Sodium:                               50mg     2%
Potassium:                          230mg   7%
INGREDIENTS: HYBRID-RATIO ION-FILTERED WHEY PROTEIN ISOLATE (Cross-Flow, Ultra-Filtered Whey Protein Isolate, Ion Charged Particle-Filtered Whey Protein Isolate, Alpha-Lactalbumin-Rich Whey Protein Isolate), PROTEIN ENZYME BLEND (Protease, Bromelain), Cocoa Powder, Natural and Artificial Flavors, Guar Gum, Acesulfame Potassium, Sucralose, Lecithin (Sunflower)
IsoFlex Protein Side Effects & Warnings
Allergies: Contains Milk (Whey). Produced in a facility that also handles soy, egg, peanut, tree nut, fish, crustacean and shellfish products.
Some side effects of in-taking a large amount of protein are: increased bowel, nausea, excessive thirst, bloating, cramps, loss of appetite and headaches. 
Use only as directed. For adult use only. Consult a health care practitioner prior to use if you are pregnant or breastfeed; if you have liver or kidney disease, or if you have been instructed to follow a low protein diet.