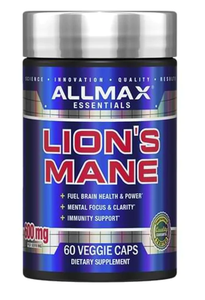 Allmax: Lion's Mane, 60 Capsules
Allmax Nutrition Lions Mane 60 Capsules
Nootropic is a mushroom which is not only incredibly tasty, some compare it to the taste and texture of crab meat, but it's also become an incredibly popular Nootropic and dietary supplement. Allmax Nutrition's All New Lion's Mane contains 600mg of Lion's Mane per serving to help reduce inflammation and oxidative stress and it's best known for boosting memory, clarity and cognitive function. 
Allmax Nutrition Lions Mane Highlights & Benefits
May Help Relieve Anxiety and Depression

May Help Reduce Inflammation and Oxidative Stress

Improve Mental Focus and Clarity

Boost Immune System Health

May Protect Against Ulcers

Supports Heart Health

600mg Lions Mane
Does Lion's Mane Mushroom Help ADD?
While Lions Mane is not a cure for ADD, it is known for boosting memory, focus and concentration which are all areas that those with ADD struggle in. Many users do report that Lions Mane does indeed help with many of the symptoms of ADD.
Does Lions Mane Have Spiritual Benefits?
While there's no research on whether Lions Mane has spiritual benefits, it has long been used by Buddhist Shaolin monks in their medication practices. The Monks found that Lions Mane enhanced their concentration and thus enabled them to better cultivate the "Mystical Life Force" "Qi". So it appears that Buddhist Monks have found it to be beneficial to their spiritual health. 
Directions
On workout days, take 2 capsules as a pre-workout boost 30 minutes prior to training. On non-workout days, take 2 capsules upon waking. Combine Allmax Lion's Mane powder with Allmax Caffeine or your favorite Allmax pre workout to increase brain function and mental alertness for that high intensity workout.

Allmax Nutrition Lions Mane 60 Capsules Ingredients
Serving Size: 2 Capsules
Servings Per Container: 30
Organic Lion's Mane 600mg
*Daily Value Not Established
Other Ingredients: Hypromellose (Capsule), Silicon Dioxide, Microcrystalline Cellulose, Magnesium Stearate.