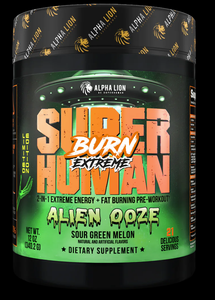 Alpha Lion: Super Human Burn Extreme, Alien Ooze
SuperHuman Burn Stim-Free is a
 

dynamic 2-in-1 formula

 

that is equal parts powerful pre-workout and intense fat burner...

The revolutionary offspring that takes our top selling, award winning Superhuman pre workout and combines it with NEW fat burning ingredients into one never-before-done formula... SuperHuman Burn gives you the power to help you fat and help build lean muscle mass at the same time in a unique pre-workout experience like no other.†
Maximizes the juiciest pumps so you can say hello to veins you never knew existed!
Dual-patented ingredients to ensure your body receives the maximum benefits.  
SuperHuman Burn Stim-Free is packed with 7 powerful patented ingredients...
Each 2 scoops of SuperHuman Burn contains clinical doses of these premium powerhouses:
500 mg

 

of MitoBurn™

100 mg

 

of Cocoabuterol®

100 mg

 

of Advantra Z®

100 mg

 

of Infinergy™ DiCaffeine Malate

40 mg

 

of CaloriBurn GP™

25 mg

 

of AstraGin®

5 mg

 

of BioPerine®
SuperHuman Burn's Fat Burn Matrix is spearheaded by a clinical dose of the revolutionary ALL-NEW fat-burning powerhouse MitoBurn™ by NNB Nutrition.
L-BAIBA (β-aminoisobutyric acid) is an amino acid naturally found in both plants and animals that has not been available as a raw material ingredient...Due to the inability to keep it stable as a powder and procure in its most biologically active type L-BAIBA...