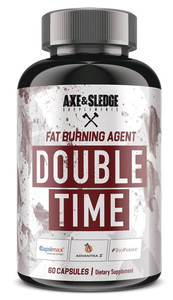 Axe & Sledge: Double Time, 60 Capsules
Fat Burner - Axe & Sledge Double Time
If you're looking for a fat burner that can work for every different body type & individual, you're now in luck! Axe & Sledge's Double Time was formulated to give you that extra oomph that you need to jump start your cardio. This product can help to speed up your metabolism & provide you with the mental focus & concentration that you need to power through that tough workout. Introducing Axe & Sledge Double Time!
Axe & Sledge Double Time Benefits
Gives Your Metabolism A Boost
Leaves You Without The Nauseous Feeling
Good For Cardio Workouts
Take First Thing In The Morning To Jump-Start Your Day
Aids Mental Focus
What Is Axe & Sledge Double Time?
Axe & Sledge's Double Time is a fat burning formula that combines stimulants & ingredients to help you lose weight. It's made up of many great ingredients including 250mg of Caffeine, 100mg of Choline Bitartrate & 150mg of Dandelion Extract. Those are just a few of the ingredients that'll help provide you with a strong dose of energy & increase your metabolism & mental focus throughout the entire day!
How Do I Take Axe & Sledge Double Time?
Take 2 capsules with 8-10 ounces of water before your first meal of the day. Take an additional capsule 6-8 hours later as needed.
Axe & Sledge Double Time Ingredients
Serving Size: 2 Capsules

Servings Per Container: 30

N-Acetyl L-Tyrosine 350mg

Caffeine Anhydrous 250mg

Turmeric Root Powder 250mg

Green Tea Extract 150mg

(50% Polyphenols, 15% EGCG)

Green Coffee Bean Extract 150mg

Danedlion Extract Whole Plant 150mg

(Taraxacum Officinale)

White Willow Bark 150mg

Choline Bitartrate 100mg

Cayenne Pepper Fruit Extract 75mg

(Capsicum annuum L.) (Capsimax)

Bitter Orange Extract 25mg

(standardized to 30% Synephrine) (Citrus x aurantium L.) (ffruit) (Advantra Z)

Black Pepper Extract 5mg

(Piper nigrum) (fruit) (Bioperine) 5mg

*Percent Daily Values are based on a 2000 calorie diet.

Daily Value (DV) not established

Other Ingredients: Rice Flower, Magnesium Stearate, Gelatin, FD&C Red 40
Axe & Sledge Double Time Side Effects & Warnings
Consult with a physician prior to use if you have a medical condition. Don't use if pregnant or lactating. Keep out of reach of children. Keep container tightly closed in a cool, dry, and dark place.