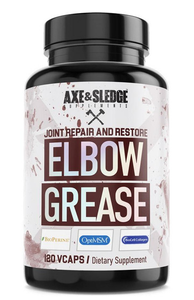 Axe & Sledge: Elbow Grease, 120 Capsules
Joint Support Formula - Axe & Sledge Elbow Grease
If you're looking for a product to help repair & restore your joint health, Axe & Sledge has a formula that may be just for you! Elbow Grease by Axe & Sledge is the complete repair and restore joint health formula that provides you with several clinically studied ingredients to turn back the hands of time & provide you with optimal joint health. 
Axe & Sledge Elbow Grease Benefits
Helps Restore & Repair Joint Health
Includes Many Clinically Studied Ingredients
How Does Axe & Sledge Elbow Grease Work?
Axe & Sledge's Elbow Grease contains several clinically studied ingredients that will help the biggest gym junkies with their optimal joint health & maintenance. Let's break it down:
Vitamin C: Protects cells from free-radical damage. Vitamin C builds & maintains collagen & connective tissue for faster joint support. 

Vitamin D: Builds & maintains strong bones while aiding in calcium absorption. It also helps prevent Osteoporosis. 

Chondroitin Sulfate: This ingredient is part of the connective tissues found in cartilage & bones. It reduced pain & inflammation & improves joint function while slowing down the progression of Osteoarthritis. 

Boron: Has the ability to help keep the skeletal structure strong by adding to bone density, preventing Osteoporosis, treating conditions like Arthritis & improving strength & muscle mass. 
How Do I Take Axe & Sledge Elbow Grease?
As a dietary supplement and for best results take 4 capsules with a meal. Users may take 2 capsules twice daily with morning and evening meals if preferred. Do not exceed 4 capsules in a 24 hour period.
Axe & Sledge Elbow Grease Ingredients
Serving Size: 4 Veggie Caps

Servings Per Container: 30

Vitamin C 150mg

(As Ascorbic Acid)

Vitamin D3 20iu

(As Cholecalciferol)

Zinc 5mg

(As Zinc Bisglycinate Chelate (TRAACS)

Manganese 10mg

(As Manganese Bisglycinate Chelate (TRAACS)

D-Glucosamine Sulfate Potassium 1500mg

(Shellfish Free)

Chondrotin Sulfate 500mg

Cetyl Myristoleate Complex 300mg

(Yielding 20% Cetyl Myristoleate)

Methylsulfonlylmethane 300mg

(OptiMSM)

BioCell Collagen 200mg

(Chicken Sternal Cartilage Extract)

Other Ingredients: Silicon Dioxide, L-Leucine, & Vegetable Capsules.
Axe & Sledge Elbow Grease Side Effects & Warnings
Consult with a physician prior to use if you have a medical condition. Don't use if you are pregnant or lactating. Keep out of reach of children. Keep container tightly closed in a cool, dry, and dark, place.