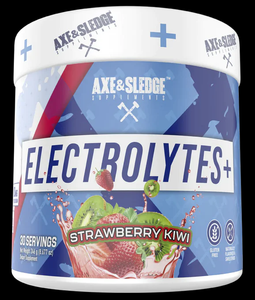 Axe & Sledge: Electrolytes + Strawberry Kiwi Flavor
Throughout the day and even in the middle of an intense workout, it can be easy to forget how vital proper hydration really is for not only optimal performance, but also other crucial functions such as regulating body temperature, keeping joints lubricated, preventing infections, delivering vital nutrients to cells, and keeping organs functioning properly. Athletes and lifters, especially those exercising with high intensity, sweat much more profusely than normal untrained individuals. The reason for this is because the excessive muscle contraction in athletes/lifters creates heat and friction, when the body starts to overheat, the sympathetic nervous system stimulates sweat glands to begin perspiring in an attempt to regulate the body temperature.
While perspiring is a cooling method employed by the body, it also depletes the body of crucial electrolytes and causes subpar hydration levels. Electrolytes are positively and negatively charged ions that conduct electrical activity to perform various functions within the body. Electrolytes must be present in proper concentrations to maintain fluid balance, muscle contraction, and neural activity—all essential to high performance and basic daily functions. The kidneys control electrolyte balance by excreting or conserving them. Water is drawn to local concentrations of electrolytes, so it follows wherever they go.
Hydrating with just plain water can prevent overheating, but it won't protect the body from electrolyte imbalances that can 100% hinder performance. This is why hydrating with an electrolytes over plain water is a superior option. Adding in electrolytes helps promote better fluid absorption, electrolyte balance that is key for performance, rapid hydration, and optimizing health and athletic performance.
Electrolytes+ by Axe & Sledge is the ultimate hydration drink mix. It contains all six essential electrolytes plus taurine, organic coconut water powder, trace minerals, and vitamin C to ensure proper hydration and recovery. Experience the power of optimal hydration and peak performance with Axe & Sledge Electrolytes +!
Benefits and doses of all 6 key electrolytes in Electrolytes+
• Sodium 200mg: Sodium is the primary electrolyte our bodies need. It helps us maintain blood pressure as well as overall fluid balance, and it is essential for muscle and nerve function.
• Potassium 110mg: Similar to sodium, potassium helps to regulate fluid, and it is essential for muscle and nerve function. It also helps to regulate heart rate.
• Calcium 100mg: It is involved in skeletal mineralization, contraction of muscles, the transmission of nerve impulses, blood clotting, and secretion of hormones.
• Magnesium 214mg: Magnesium has numerous health benefits. Your body needs magnesium to help with brain function, heart rate, and nerves. It also helps muscles to relax after muscle contractions and can assist with alleviating muscle cramps associated with exercise.
• Phosphorus 50mg: Helps filter out waste in the kidneys and plays an essential role in how the body stores and uses energy. It also helps reduce muscle pain after a workout.
• Chloride 340mg: Chloride is, after sodium, the most abundant electrolyte in serum, with a key role in the regulation of body fluids, electrolyte balance, the preservation of electrical neutrality. It helps to regulate the amount of fluid and types of nutrients going in and out of the cells. 
Directions: AS A DIETARY SUPPLEMENT, MIX 1 SCOOP (~8.2 GRAMS) WITH 10-12 OUNCES OF COLD WATER. VARY THE AMOUNT OF LIQUID TO SUIT YOUR TASTE PREFERENCE.
FOR OPTIMAL RESULTS, CONSUME BEFORE, DURING, AND/OR AFTER TRAINING. ELECTROLYTES+ CAN ALSO BE TAKEN THROUGHOUT THE DAY AND ON NON-TRAINING DAYS TO SUPPORT HYDRATION.