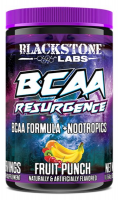 Blackstone Labs: BCAA Resergence + Nootropics
All Day Amino Acid, Energy, & Focus!
When your primary concern is building muscle, there's a few things you need to focus on each day -- eating ample calories, training intensely by following the principles of progressive overload, resting enough. But sometimes that's not enough. Sometimes your body is missing those key nutrients it needs throughout the day to repair, replenish and rebuild your mind and muscles.
BCAA Resurgence is your all day, every day muscle-building insurance policy that provides the essential amino acids, vitamins, and minerals to promote optimal muscle growth and recovery. Also included is a powerful focus matrix including proven focus to obliterate mental fatigue and promote long-lasting focus and concentration all day long.
Say goodbye to soreness, achiness, lethargy, and lackluster gains once and for all with BCAA Resurgence!
Supplement Facts
Serving Size: 1 Scoop (11g)
Servings Per Container: 30
Vitamin A 5000IU
Vitamin C 60mg
Vitamin D3 400IU
Vitamin E30IU
Vitamin K1 8mcg
Thiamin 1.5mg
Riboflavin 1.7mg
Niacin 20mg
Vitamin B6 2mg
Vitamin B12 6mcg
Biotin3mg
Panthothenic Acid 10mg
Resuragence FOcus Blend 640mg
L-leucine 2g
L-isoleucine 1g
L-valine 1g
L-lysine 1g
L-taurine 1g
Theonine 950mg
L-alanine 500mg
Methionine 300mg
Phenylalanine 150mg
Supports Muscle Growth
Promotes Muscle Recovery
Supports Increased Endurance
Clean Long Lasting Energy
Contains Rejuvenating Vitamins and Minerals
Blend of Essential Amino Acids
Mental Focus and Clarity
Cutting Edge Ingredients