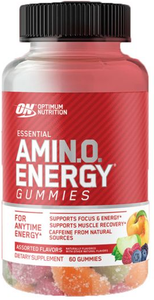 Optimum: Amino Energy Gummies, Assorted Flavors, 60 Gummies
Amino Energy Gummies - Optimum Nutrition - Assorted Flavors - 60 Gummies
What Is Amino Energy Gummies?
Amino Energy is now offered in a convenient gummy format! ESSENTIAL Amino Energy Gummies was created to support the goals of active adults everywhere, whether grinding through a long day, or pushing a workout to the next level.†
Ingredients:
Amino Blend: L-Threonine, L-Citrulline, L-Theanine, L-Alanyl-L-Glutamine, Micronized Taurine, L-Lysine Hydrochloride

Caffeine (from Coffee Bean)
What Can I Expect?
Anytime Energy and Focus†
Performance and Endurance†
Muscle Recovery†
FAQ:
How much caffeine is in each serving?
There is 100 mg of caffeine in each serving.
When Should I Use Amino Energy Gummies?
Dosage and Directions:
Take 7 gummies when you need a energy boost.
AM Wake Up: Morning
Pre Workout Energy: 12-30 Minutes before Training
Post Workout Recovery: After Training
Afternoon Pick Me Up: Anytime