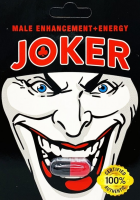 DC: Joker Male Enhancement
Joker 4000mg
Male Sexual Performance Enhancement
Bigger-Stronger
No Headache
Directions:
Take one capsule 45 minutes prior to sexual activity.
Caution:
Do not exceed more than one capsule in four days. Not for use by individuals under the age of 18 years.
Warning:
Use only as directed, do not take this product if you have a serious medical condition or take nitrates, nitroglycerin or prescription medications.
Do not use if you have a heart problem or high blood pressure. Consult with your physician if you have any of these medical conditions.
Ingredients:
Supplement facts
Serving Size: 1 Capsule 2400mg
Servings per Container: 4000 mg
Proprietary Raw Material: 1600mg
Proprietary Blend:
Goji Extract Deng Sen Extract Atractylodes
Cinnamon Bark Ginseng, L-Arginine, Vitamin B6,
Vitamin B12, Folic Acid, Vitamin D,
ASHWAGANDHA, Ginger Epimedium,
Cayenne Pepper, Proprietary Formula
These statements have not been evaluated by the Food and Drug Administration. This product is not intended to diagnose, treat, cure, or prevent any disease.
Distributed By: D.C