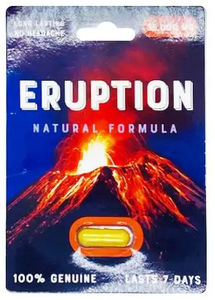 Eruption: Sexual Enhancement
Eruption
Natural Formula supplement, Infinity Sexual Confidence
LONGER – HARDER – STRONGER
NO HEADACHE!
1 Capsule up to 7 Days
Benefits:
Work in 30 minutes
Maximize the Time of Intercourse
No More Premature Ejaculation
Experience Rock Hard Erections
Better Ejaculation Control, No Limits
Maximize Volume of Ejaculation
Amazing increase in Thickness
Maximize in Length, Width and Stamina
Maximize Sexual Confidence
Maximize Intensive, Explosive Orgasms
Guaranteed Enhancement
No Prescription Necessary
Doctor Designed
Usage and effects: 
Take one capsule 30 minutes before sex to help energy, libido, and sexual performance.
can also be used on a regular basis to maintain optimal condition of readiness before sex.
For better result, take it one hour apart from taking other supplements or medications.
Precaution:
Do not exceed recommended daily intake.
Do not use more than one capsule every 60 hours.
If you are currently under treatment for ANY medical conditions, please consult your physician before taking this pill.