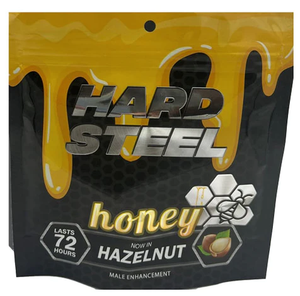 Hard Steel: Hazelnut Male Enhancement Honey 12 Packet Bag
Hard Steel! Get Hard Steel in between your legs! Hard Steel has now been transformed into a fast activating honey.
Take just one sachet of Hard Steel honey and you'll be hard as steel within 15 minutes.
This product contains a gift box including 12 individual honey sachets.
Male Enhancement Honey
Increased Arousal
Intense Orgasms
Fast Acting & Long Lasting
Bigger and Longer Erections!
Sensations last up to 72 hours!
Mixes well with Alcohol!
Serving Size: 1 Honey Sachet
Hard Steel Honey has been scientifically designed for men to increase sexual pleasure and performance. Hard Steel 400K Honey is formulated to promote rock solid erections and enhance longer and more frequent orgasms.