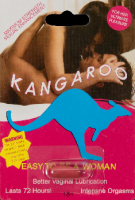 Kangaroo: Pink For Her Ultimate Pleasure
Kangaroo Pink is a premium blend female sexual enhancement pill that has been scientifically designed for women to increase sexual pleasure and performace. These pills are formulated to promote vaginal lubrication and enhance longer and more frequent orgasms.
Benefits Include:
Powerful orgasms
Increased lubrication
Intense sexual desire
Kangaroo Pink is so potent that your toes will curl from absolute satisfaction! Unleash your sexual desires and add enhanced pleasure to ANY and ALL sexual experiences today!