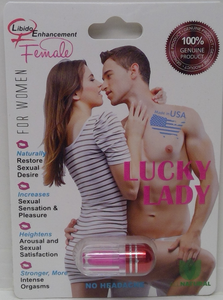 Lucky Lady: Female Libido Enhancement
Lucky Lady helps increase libido and sexual pleasure in women.
The supplement works by increasing blood flow to the clitoral area resulting in more intense orgasms and better vaginal lubrication.
Features:
Increases energy and libido
More intense orgasm
Maximum excitement
Fast acting and long lasting
Can last between 72 hours and 7 days
Instructions:
Take one capsule one hour before sexual activity to help energy, libido and sexual performance.