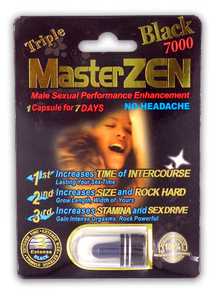 MasterZen Black 7000

MasterZen Black 7000 – 24 Count Display
Male Sexual Enhancement Pill
Fast Acting-Long Lasting
1 Capsule For 5 Days
Time + Size + Stamina
No Headache
1: Increase the TIME of INTERCOURSE (Lasting Your Sex Time)
2: Increase SIZE and ROCK HARD (Grow Length, Width of Yours)
3: Increase STAMINA and SEX DRIVE (Gain Intense Orgasms, Rock Powerful)
Benefits:
Increase the time of intercourse
Free from premature ejaculation
Better ejaculation control, no limits
Increase volume of ejaculate
Amazing increase in thickness
Increase in length, width, and stamina
Experience rock hard erections
Increase sexual confidence
Increases intense, explosive orgasms
Guaranteed enhancement
No prescription necessary
Doctor designed
Suggested Use: 
As a dietary supplement take one capsule 30 minutes prior to sexual activity with water.
Precaution:
Do not use more than one capsule every 60 hours.
Do not exceed recommended daily intake.
Consult a physician if you have heart problems before taking this pill.
Stop using immediately if undesirable effects develop.
Keep out of the reach of children.
Store this product in a cool and dry place.
Do not take this pill with anything that may have nitrate in it.
If you are currently under treatment for ANY medical conditions, please consult your physician before taking this pill.