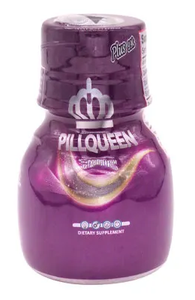 Pill Queen: Liquid Shot for Her
Pill Queen Liquid Shot
Your partner will be kneeling before you, paying homage to the Queen you are. New Pill Queen liquid formula activates within 15 minutes, guaranteeing you'll be ready to give your partner the royal treatment.
Description:
Pill Queen is now released as a liquid shot. Liquid shots are a more effective method compared to your traditional male enhancement pill. Liquid shots activate faster giving the user a stronger erection in just 10-15 min. Pill Queen liquid shot works by attracting and retaining moisture in the vaginal lining, creating a moist environment that keeps on going.
Benefits include:
Increased Satisfaction: Heighten sexual intercourse, oral sex, masturbation or genital stimulation by a partner!
Organic Blend blend: Our proprietary plant-based blend combines the powerful benefits of French Maritime Pine bark extract, antioxidants, and naturally occurring amino acids. The ingredients in Pill Queen work together to increase blood flow to the vaginal area, making it easier for sexually active women to become physically aroused and experience orgasm.
Ingredients: 
Arginine (as Arginine HCI) 800mg, L-Citrulline (as Citrulline HCI) 800mg, Rosvita; Rose Hips extract (Rosa rugosa Thunb.) (fruit) 200 mg, Pycnogenol®; French Maritime Pine Bark extract (Pinus pinaster) 80mg, microcrystalline cellulose, croscarmellose sodium, stearic acid, purified water, maltodextrin, hydroxypropyl methylcellulose, titanium dioxide, triacetin, polyethylene glycol, silica, sodium stearyl fumarate.
Directions:
Liquid shot suggested use: store Pill Queen liquid at 59-86 degrees F (15-30 degrees C). Drink one full bottle for an extreme libido boost. Shake well before opening. We recommend consuming a 1 full bottle of Pill Queen, 15 minutes prior to sexual activity.