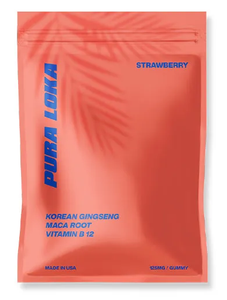 Pura Loka: Sexual Enhancement Gummy, Strawberry
Description
Pura Loka

Pura Loka is here to provide you with some fun under the sun. Give'em a handful of that SunnyD, let them play with your coconuts, and spray lotion everywhere. Our gummies are ripe for any occasion.
Our in-house Proprietary Blend of NO Activators & PDE5 Inhibitors work together in harmony to give you the perfect party pump for your love muscle.
Great for a night curled up in bed with your partner, a night on the town or sex on the beach.
Ingredients: Corn Syrup, Sugar, Gelatin, Sorbitol, Citric Acid, Lactic Acid, Natural and Artificial Flavors, Korean Ginseng, Maca Root, Vitamin B12, Yellow 5, Yellow 6, Red 40, Proprietary Blend of NO Activators & PDE5 Inhibitors