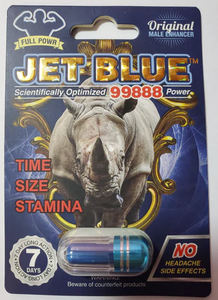 Rhino: Jet Blue 99888 Male Enhancement
Rhino Jet Blue 99888
WE ONLY CARRY ORIGINAL PRODUCTS.
100% Authentic
Made in U.S.A.
Time + Size + Stamina
No headache
Increase time of intercourse
Better ejaculation control, no limits
Increase volume of ejaculate
Amazing increase in thickness
Increase your sexual confidence
Experience rock hard erections
All gains in length, width, and stamina
Direction :
 

Take one Capsule 1 Hour before Sexual Activity, Do not Take more than 1 Capsule within 3 days.

Warning : Customer Must be 18 or order to purchase this product.

Caution : This statement has not been evaluated by the Food and Drug Administration (FDA). This product is not intended to diagnose, treat, cure or prevent any disease.

Disclaimer: Consult a physician if you have heart problems, diabetes and/or high blood pressure. Stop using immediately if undesirable effects develop. Keep out of the reach of children. Store this product in a cool and dry place. Do not take this pill with anything that may have nitrate in it.