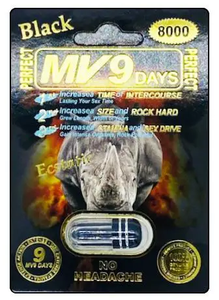 Rhino: MV9 8000 Black
MV9 Black 8000
Male Sexual Performance Enhancement
TIME + SIZE + STAMINA
1 Capsule For 9 Days
No Headache
1: Increase TIME of INTERCOURSE (Lasting Your Sex Time)
2: Increase SIZE and ROCK HARD (Grow Length, Width of Yours)
3: Increase STAMINA and SEX DRIVE (Gain Intense Orgasms, Rock Powerful)
 Benefits:
Maximize the time of intercourse
Free from premature ejaculation
Better ejaculation control, no limits
Increase volume of ejaculate
Amazing increase in thickness
Increase in length, width and stamina
Experience rock hard erections
Increase sexual confidence
Increases intense, explosive orgasms
Guaranteed enhancement
No prescription necessary
Doctor designed
Usage and Effects: 
Take one Black Gold capsule one hour before sex to help energy, libido, and sexual performance.
MV9 Black can also be used on a regular basis to maintain optimal condition of readiness before sex.
For best results, take MV9 Black one hour apart from taking other supplements or medications.
Ingredients:
Supplement facts
Amount*
Serving Size: 1 Capsule 2000 mg
Proprietary Raw Materials: 1500mgServing Per Container: 1 capsule

 


---

Proprietary Blend:
Go Ji Extract, Deng Sen Extract, Atractylodes, Cinnamon Bank, Dismutase, Cornus, Cuscuta, Dang Gui, Licorice, Condonopsis,
Cordyceps Sinensis, Rubus, Panax Ginseng, Pueraria Labata,
Seperoxide Dismutase, Proprietary Formula

 Daily Value not established
SUGGESTION:
please allow approximately 60 minutes prior to any activity for maximum results.