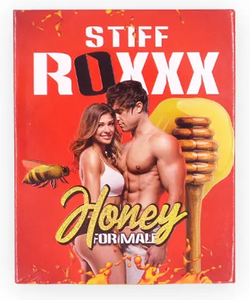 Stiff Roxxx: Red Honey
Get your ROXXX Stiff! Stiff RoXXX Red has now been transformed into a fast activating honey.
Take just one sachet of Stiff RoXXX Red Honey and you'll be hard as steel within 15 minutes.
This product contains a gift box including 12 individual honey sachets.
Male Enhancement Honey
Increased Arousal
Intense Orgasms
Fast Acting & Long Lasting
Bigger and Longer Erections!
Sensations last up to 72 hours!
Mixes well with Alcohol!
Serving Size: 1 Honey Sachet
Stiff RoXXX Red Honey has been scientifically designed for men to increase sexual pleasure and performance. Stiff RoXXX Red Honey is formulated to promote rock solid erections and enhance longer and more frequent orgasms.
Directions: Take one Stiff RoXXX Red Honey sachet 20min before sexual activity to aid energy, libido, and sexual performance. Stiff RoXXX Red Honey can also be used on a regular basis to maintain a peak condition of preparedness prior to sexual activity. For best results take Stiff RoXXX Red Honey one hour apart from taking any other supplements or medications.
SUGGESTION:
Please allow approximately 15 – 20 minutes prior to any activity for maximum results.