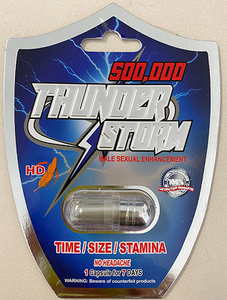 Thunder Storm: 500,000 Male Enhancement
Thunder Storm
Male Sexual Enhancement.
No Headache.
Made in USA.
Supplement Facts
Serving Size: 1 Capsule 700 mg
Ginkgo biloba 100 mg
Damiana 100 mg
Saw Palmetto 100 mg
Muira puama 100 mg
Tribulus terrestris 100 mg
Maca root powder 100 mg
L-arginine 100 mg
Suggested Use:
As a dietary supplement take one capsule 45 minutes prior to sexual activity with water.