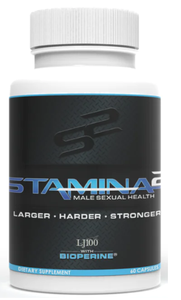 Wellgenix: Stamina2, Male Sexual Enhancement 60 Capsules
Stamina2 with LJ100:
Larger * Harder * Stronger
Backed by 26 Clinical Studies shown to promote:
Enhanced Libido
Improved Energy and Stamina
More Powerful Erections
Boosted Confidence
Increased Free Testosterone
Sexual Virility
Longer Lasting Performance
Stamina Squared combines a unique formula of LJ100 and Bioperine to give you the most effective male sexual enhancement product on the market. Bioperine has been proven to increase the bioavailability and absorption of our other nutrients to provide unmatched results. Clinical studies have shown this combination performs together to boost livido, sexual performance, provide firmer erections, and heighten pleasure.