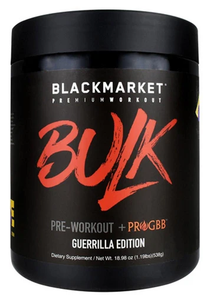 Blackmarket: Bulk Preworkout
Bulking Supplement - Black Market Labs Bulk Plus Guerrilla Edition Featuring ProGBB
If you're looking for a brand-new & cutting edge bulking supplement, look no further. Black Market Labs has released this all-new supplement called Black Market Labs Bulk. This product is one of Black Market Labs' newest additions to their trendy line. Bulk was created to help support lean muscle growth & to provide consumers with a major increase in overall performance & endurance in the gym. Introducing Black Market Labs Bulk!! 
Black Market Labs Bulk Benefits
Helps To Build Muscle Mass
Increases Strength
Provides Major Power Boost
Helps To Help Boost Testosterone Levels Naturally
Activates Muscle Growth
Black Market Labs Bulk
 Flavors
Blue Razz

Pineapple Skies

Fruit Punch

Watermelon

Blue Razz Lemonade (Guerrilla Edition) (With ProGBB)
How Do I Take Black Market Labs Bulk?
Take one scoop with 10-12oz of cold water 15-45 minutes before, strength training.
Black Market Labs Bulk Ingredients
Serving Size: 1 Scoop
Servings Per Container: 25
Calories 25

Vitamin D3 83mcg

Thiamin (Vitamin B1) 4.4mg

Vitamin B6 7.4mg

Magnesium 124mg

Zinc 30mg

Sodium 65mg

Creatine Monohydrate 5g

Beta-Alanine 3.2g

L-Citrulline 3g

Betaine Anhydrous 2.5g

Glycerol Powder 1g (Standardized To 65% Glycerol) (GlycerPump)

L-Taurine 1g

Ashwagandha Root Extract 600mg (5% Withanolides) (KSM-66)

Magnesium Aspartate 500mg

Zinc Monomethionine 150mg

L-Norvaline 100mg

(Panax Notoginseng (Root) Extract And Astragalus Membranaceous (Root) Extract) AstraGin 50mg

Energy & Focus 833mg: N-Acetyl-L-Tyrosine, Caffeine Anhydrous (325mg) Mucuna L-Dopa, Higenamine HCL, Yohimbine HCL

Other Ingredients: Tartaric Acid, Citric Acid, Natural And Artificial Flavors, Malic Acid, Silicon Dioxide, Calcium Silicate, Sucralose, Sodium Chloride, Trisodium Citrate, Acesulfame Potassium.

Black Market Labs Bulk Side Effects & Warnings
Keep out of reach of children. Store in a cool, dry place. Do not exceed recommended dosage.