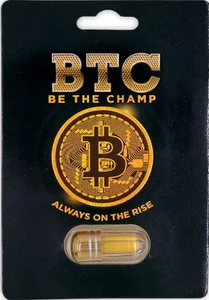 BTC: Be The Champ Sexual Enhancement
BTC
Over the time, our sex drive can fluctuate. You may notice a decline in your libido, if you are ill or if you are taking anti-seizure or anti-depressant medications. A recurrent or persistent lack of interest in sex can affect your relationships and cause personal distress. Symptoms include:
Serving Size: 1 Capsule
Want to enjoy hot passionate sex? If you want to enhance your sexual desires, physical sensations and climax more frequently add "BTC" to your sex life and experience an incredibly powerful orgasm that you will never forget.
Directions:
Take 1/2 Tablet as directed 20 minutes prior to sexual activity. Drink at least 16 ounces of water when taking the tablet. Effects are activated when physical stimulation occurs and can last up to 7 days.
Do not take more than 1 tablet within 48 hours.
Precautions: Use only as directed. Do not take this product if you have any serious medical condition or take nitrates. nitroglycerin or prescription medications. Do not use if you have heart problems or high blood pressure. Consult with your physician if you have any of these conditions.
Everyone's metabolism is different, consult your doctor before using any supplements.
Caution:
Do not exceed recommended daily intake.
Use as directed.
Consult a physician before using Infinity.
Do not use if you take any other medications or have any medical condition such as heart disease, high blood pressure, seizures, stroke, cancer, liver failure, severe headaches, allergies or any other condition.
Consult a physician if you have heart problems before taking this pill.
Stop using Infinity immediately if undesirable effects develop.
Keep out of the reach of children.
DO NOT take Infinity if you are pregnant.
Store this product in a cool and dry place.
If you are currently under treatment for ANY medical conditions, please consult your physician before taking Infinity.