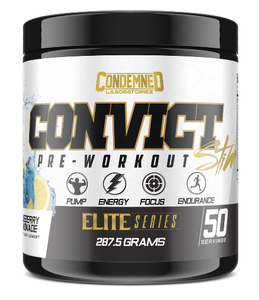 Condemned Laboratoriez: Convict, 50 Servings
Stimulant Packed Pre-Workout - Condemned Labz Convict
Try Condemned Laboratories Convict Stim, a unique blend of Stimulants and Thermogenic ingredients to help you get pumped up for your toughest workouts and burn more Calories too! Condemned Labz Convict is made with only the highest quality ingredients on the market, and is completely generously dosed. Condemned Labz Convict is offered in a variety of delicious and unique tasting flavors, and is non-GMO and Gluten-free. On top of all of that, Condemned Labz Convict will help to boost motivation levels in the gym, and is easy to take on-the-go. Step up your pre-workout game today with Condemned Labz. Pick up a Tub!! Introducing Condemned Labz Convict!! 
Condemned Labz Convict Benefits
100% All Natural & Certified Organic
Offered In A Variety Of Delicious Flavor Options
Non-GMO & Gluten-Free Supplement
Made With Only The Highest Quality Ingredients
Fully Transparent & Generously Dosed Label
Increased Laser Focus & Intense Energy
Delivers Massive Muscle Pumps In The Gym
Provides Greater Stamina & Endurance
Helps Reduce Fatigue & Shortens Recovery Times
Promotes Elevated Thermogenesis In The Body
Boosts Motivation & Mental Cognition Overall

How Do I Take Condemned Labz Convict?
Mix one to two (1-2) Scoops, with 6-8 Ounces of Water. Take 30 minutes before training. Those sensitive to Stimulants should begin with one (1) Scoop to assess tolerance. 
Condemned Labz Convict Ingredients
Serving Size: 1 Scoop
Servings Per Container: 50
Vitamin B3 (as Niacin) 7.5mg
L-Citrulline 2000mg
Beta Alanine 1250mg
L-Tyrosine 250mg
Caffeine Anhydrous 150mg
Mucuna Pruriens Extract (L-Dopa 99% Extract) 150mg
2-Aminoisopheptane Hydrochloride 112.5mg
Isopropylnorsynephrine HCL 20mg
Paradoxine Grains of Paradise Extract 7.5mg
(Seed) (>12.5% 6-Paradol) (Afromomum Melegueta)
BioPerine (fruit) (Black Pepper Extract) 2.5mg
(>95% Piperine) (Piper Nigrium)
Yohimbine HCL 1.5mg
*Percent Daily Values (%DV) are based on a 2,000 calorie diet.
*Daily Value Not Established. 
Other Ingredients: Natural & Artificial Flavors, Citric Acid, Sucralose, Acesfulfame Potassium, Silicon Dioxide.
Condemned Labz Convict Side Effects & Warnings
For use by healthy adults only, not recommended for persons under the age of 18. Do not use if you are pregnant or nursing. Individuals should not consume other Caffeinated products in conjunction with this product. Seek advice from a Healthcare Professional before taking this product. Keep out of reach of children.