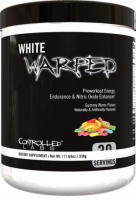 Controlled Labs: White Warped
Controlled Labs White Warped 30 Servings
White Warped is an All New Pre-Workout from Controlled Labs. White Warped was designed to improve your performance in the gym using the lastest and most cutting edge supplement ingredients. White Warped boasts a pretty impressive list of ingredients in an all open pan, no hidden proprietary blends here. White Warped contains Citrulline, Agmatine, Taurine, Tyrosine, Huperzine A, Caffeinen, both anhydrous and dicaffeine malate, and spectra, a brand new patended ingredient. White Warped will help you bring out  your best performance. This product hits all angles, Focus, Energy, Mood, Well Being, Pumps, and most importantly Overall Performance. White Warped was made to increase performance whether you're doing a lifting session, a cardio session, or just to give you a daily boost. White Warped comes in 3 tasting flavors and contains 30 servings per tub. 
White Warped Product Highlights
Fast Absorbing & Fast Acting
Synergy, Strength, and Stamina
Enhances Mood & Focus
Promotes Endurance & Extreme Pumps
Nutrient Delivery & Recovery
Controlled Labs White Warped Flavors
Gummy Worms
Candy Apple
Strawberry Jelly Beans
Suggested Use
Initial (first serving) Directions: To assess your individual tolerance to the supplement, combine 1/2 scoop of White Flash with 6-8 oz. of cold water and consume it before your workout. Shake well before drinking. If you experience any unusual occurrence, stop and consult your doctor.

Directions for Regular Use: Combine 1 serving of White Flash with 12-16 oz. of cold water (you may adjust the amount of water used based on your particular flavor concentration desire) and consume it 30 minutes pre-workout. For best results, White Flash should be used in conjunction with other Controlled Labs products, with adequate liquid/water per day, and a sensible diet.


Controlled Labs White Warped Supplement Facts
Serving Size: 1 Scoop (11 grams) (18cc scoop)
Servings Per Container: 30
L-Citrulline 3g
L-Tyrosine 2g
Taurine 1.5g
Agmatine Sulfate 500mg
Caffeine Anhydrous 250mg
Di-Caffeine Malate 100mg
Spectra Proprietary Blend 100mg
Grape Seed Extract, Quercetin, Blueberry Fruit Extract, Resveratrol (from Japanese Knotweed Root Ext), Rasberry Fruit- Bilberry Fruit Extract, Sour Cherry Fruit, Dried Plum (Prune) Fruit, Strawberry Fruit, Cranberry Fruit
Huperzine-A (from Toothed Club MOss Aerial Part Extract) 100mcg
*Daily Value Not Established