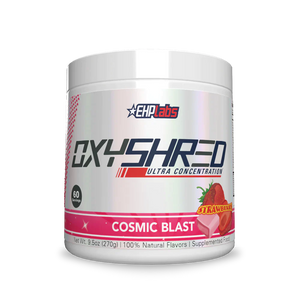 EHPLabs: Oxyshred, 60 Servings
Achieve your goals with this 
scientifically researched shredding formula
 containing proven ingredients that help promote fat loss, boost immunity and provide a natural energy boost. Oxyshred Ultra Concentration comes in delicious flavours for all tastes, and ticks all the boxes for those wanting to shred and reach their full potential!
Nutrition in conjunction with regular exercise is essential for general well-being. Consistency in all aspects of health is also key to achieving the most optimal body composition goals. However, keeping on top of work, social life, managing stress and cravings whilst finding the daily energy to exercise can often lead to falling off the bandwagon.
It's our mission to help people achieve their health and fitness goals. This is why we developed a very unique formula to promote not only the physical (fat loss, immunity, balanced sugar levels, performance) but also mental (mood, focus, appetite) aspects of health and weight loss.
PROMOTES SHREDDING
A number of ingredients have been added to help stimulate the body's fat receptor cells and help boost metabolism to promote an increased level of fat cell break-down. Green Coffee bean extract has been heavily researched and scientifically validated to reduce body weight and BMI ¹. In addition, Acetyl L-Carnitine HCl and Conjugated Linoleic Acid (CLA) have shown to reduce fat inhibition and reduce fat tissues² ³ . To help reduce stubborn belly fat, Garcinia Cambogia has been added due to its potential benefits of reduced abdominal fat and prevention of visceral fat ⁴.
BOOSTING ENERGY
Oxyshred includes a full spectrum of B-vitamins which promote and support energy levels. They work to help the body use macronutrients (carbohydrates, fat and protein) for fuel and also play an important role in brain function and DNA production. Figures show that a very sizeable proportion of the developed populations suffer deficiency in one or more B vitamins, suggesting that supplementation may be of particular benefit ⁵.
INCREASING IMMUNITY
Vitamin C contributes to immune defence by supporting various cellular functions. Supplementation has shown to be effective in the prevention and treatment of systemic infections ⁶. In addition, research shows that L-Glutamine has potential benefits of strengthening the immune system by inhibiting inflammatory responses. Findings suggest that L-glutamine supplementation may shorten the severity and length of flu-like infection ⁷.
ENHANCING MOOD
L-Tyrosine has been added due to its potential benefits in improving working memory, focus and coordination when exercising ⁸. For mood enhancing properties, studies have shown that Taurine and caffeine have proven to be very effective ⁹. In addition, Taurine can decrease feelings of anxiety and stress. Outside the gym environment, these ingredients can also be used to improve focus and performance in the workplace, particularly to combat the afternoon slump. The unique combination of stimulants and nootropic used will ensure there is no post-peak crash or loss of focus.
BLOOD SUGAR
Blood sugar levels impact energy, concentration, ability to lose weight, performance, and an imbalance can lead to rapid mood swings and increased cravings. To help manage this, Chromium picolinate has been added due to its potential benefits in balancing blood sugar levels and reducing insulin resistance. The worldwide prevalence of insulin resistance ranges from 15.5 to 46.5%, among adults. As insulin resistance is a cardiovascular and type 2 diabetes risk factor, prevention and management is considered of great importance ¹⁰.
INCREASING PERFORMANCE
Huperzine A has been found to significantly improve muscle contractions induced by nerve stimulation, leading to increased strength and performance ¹¹. Additionally, L-glutamine is an amino acid which promotes the release of natural human growth hormone and helps with lean muscle growth.
HOW IS OXYSHRED DIFFERENT FROM OTHER PRODUCTS ON THE MARKET?
Has not just one but SIX scientifically supported benefits
No jitters or anxiety
No heavy stimulants
Vegan-friendly formula
Light diuretic meaning no excess fluid retention
| | | |
| --- | --- | --- |
| OxyShred (60 serves) | Amount / serving | % DV |
| Calories | 5 | |
| Total Carbohydrate | 1.0 g | <1% |
| Dietary Fiber | 0.2 g | 4%* |
| Vitamin C | 173 mg | 193% |
| Thiamin | 0.56 mg | 46% |
| Riboflavin | 0.78 mg | 60% |
| Niacin | 20 mg | 123% |
| Vitamin B6 | 0.98 mg | 58% |
| Vitamin B12 | 0.9 mcg | 38% |
| Pantothenic Acid | 1.7 mg | 34% |
| Chromium Picolinate | 10 mcg | 3% |
* Percent daily value are based on a 2,000 calorie diet.
FULL BREAKDOWN OF INGREDIENTS
SHREDDING MATRIX (2003 MG)
Acetyl L-Carnitine HCl, Garcinia Cambogia Fruit Extract (60% Hydroxycitric Acid), Conjugated Linoleic Acid (CLA), Grapefruit Seed Extract 4:1, Raspberry Ketones (From Raspberry Fruit Extract), Mangifera Indica Seed Extract, Bitter Orange Fruit Extract, Green Coffee Bean Extract (50% Chlorogenic Acid), Olive Leaf Extract (10% Oleuropein), Guggul Extract Powder, Chromium Picolinate


IMMUNITY BOOSTER & PREBIOTIC COMPLEX (625 MG)
L-Glutamine, Inulin Fiber, Vitamin C (Ascorbic Acid)


MOOD ENHANCER MATRIX (851 MG) 
L-Tyrosine, Taurine, Caffeine Anhydrous, Huperzia Serrata Whole Herb Extract (Huperzine A)


FULL B VITAMIN SPECTRUM (24.59 MG) 
Niacinamide (Niacin), Calcium Pantothenate (Pantothenic Acid), Pyridoxine HCl (Vitamin B6), Riboflavin (Vitamin B2), Thiamine Mononitrate (Vitamin B1), Cyanocobalamin (Vitamin B12)