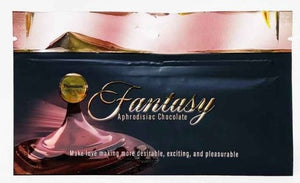 Fantasy Aphrodisiac Chocolate for Him
Fantasy Aphrodisiac Chocolate For Him
Premium. Make love making more desirable, exciting and pleasurable. Ingredients: Sugar, Vegetable Oil Palm Soy, Cocoa Powder with Alkali, Soy Lecithin as an emulsifier, Vegetable Shortening Palm Kernel, Hazelnuts, Nonfat Dry Milk, Natural Vanillia, Hazelnut Flavor.
Use: take one chocolate sachet before sexual activity to aid energy. Libido, and sexual performance. A chocolate sachet can also be used on a regular basis to maintain a peak condition of preparedness prior to sexual activity.
For the best results take a Chocolate sachet one hour apart from taking any other supplements or medications. Caution: contains Hazelnuts, Milk and Soy.
Manufactured in a facility that also processes Coconut Tree Nuts. Calories 45 per package.
Total Carbohydrates 12g. Kacip Fatimah 75mg, Caviar Powder 225mg. Tangkat Ali Root 225mg. Cinnamon Powder 150mg. Consult a physician if you have heart problems. Discontinue use immediately if any undesirable effects occur. Keep out of reach of children. Store in a cool, dry place.
Do not use more than one sachet every 72 hours. Consult a physician if you have health issues or undesirable effects. Store in a cool and dry place. Taking any other medication is not recommended and should be avoided. Do not take more than one pack every 60 hours.
These statements have not been evaluated by the Food and Drug Administration FDA. This product is not intended to diagnose, treat, cure, or prevent any disease. Made in USA. Categories: Meds, Supplements, Health and Beauty Aids, Sex Drinks. 2023.