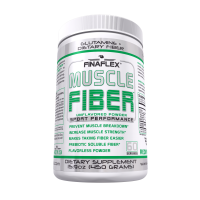 Finaflex: Muscle Fiber, Unflavored 60 Servings
Designed to help preserve and strengthen muscle! MUSCLE FIBER by FINAFLEX combines a blend of two muscle preserving and strengthening ingredients with a Prebiotic Soluble Fiber. MUSCLE FIBER features two categories of ingredients that are often taken separately into one complete and novel dietary supplement.
MUSCLE FIBER with robust essential Amino Acid L-Glutamine, Vitamin D3, and Fructooligosaccharide (FOS), three ingredients that are crucial to muscle preservation, digestive health, and overall well being.
Supplement Facts:
Serving Size: 1 Scoop (7.5 grams)
Servings Per Container: 60
Calories 5
Total Carbohydrate 3g 1%
Dietary Fiber 3g 12%
Soluble Fiber 3g
Vitamin D3 500 IU 125%
Fructooligosaccharide (FOS) 2.5g
L-Glutamine 5g
Other Ingredients: Silica
Directions: As a dietary supplement consume 1 level scoop of MUSCLE FIBER 1-4 times daily. Add MUSCLE FIBER to 8-16 ounces of water or any flavored beverage and consume immediately after stirring. Drink MUSCLE FIBER every day to ensure proper daily dietary fiber and glutamine supplementation.
Warning: DIETARY SUPPLEMENT - 450 GRAMS
WARNING: KEEP OUT OF REACH OF CHILDREN. DO NOT USE IF PREGNANT OR NURSING. Consult your doctor prior to use if you have or are at risk for prostate disease, heart disease, or any other general medical condition. All persons are advised to consult with their doctor or other medical authority before use of this or any other dietary supplement. Discuss possible interactions and contradictions of this dietary supplement with other medicines currently prescribed by your doctor. Discontinue use immediately if you experience any adverse symptoms or reactions while taking this product. Discontinue use 2 weeks prior to surgery. Do not use if your health status is unknown. Contents may settle in transit. Shake container prior to use to redistribute ingredients. Store in a cool dry place (heat and humidity can cause clumping). Note: Manufacturers continually change product specifications. While we try our best to keep product descriptions up to date, they do not necessarily reflect the latest information available from the manufacturer. We are not responsible for incorrect or outdated product descriptions and/or images. These statements have not been evaluated by the Food and Drug Administration. This product is not intended to diagnose, treat, cure, or prevent any disease.