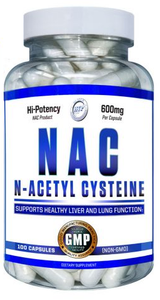 Hi-Tech: NAC, 100 Capsules
Hi-Tech Pharmaceuticals NAC - 600 mg - 100 Capsules
What Is Hi-Tech Pharmaceuticals NAC?
N-acetyl Cysteine (or NAC) is a more stable form of the amino acid L-Cysteine.† As a precursor to L-Cysteine, NAC helps the body synthesize Glutathione.† NAC Possesses powerful antioxidant properties that may help fight cell-damaging free radicals.†
Studies have shown that oxidative stress cause by free radicals may contribute to premature aging of cells.† NAC supports healthy liver function and lung function. NAC supports bronchial and respiratory health.†
Ingredients:
N-Acetyl Cysteine (NAC) – 600 mg
Other Ingredients: Hypremellose (cellulose capsule), Dicalcium phosphate, stearic acid (vegetable source)
How Do I Take Hi-Tech Pharmaceuticals NAC?
Dosage and Directions:
As a dietary supplement, take one (1) capsule 2 times a day.