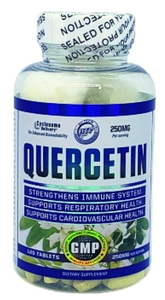 Hi-Tech: Quercetin, 120 Tablets
Hi-Tech Pharmaceuticals Quercetin 120 Tablets
Quercetin is a pigment found in many fruits, plants and vegetables and is thought to have a wide array of health benefits including strengthening the immune system, supporting respiratory health, and reducing inflammation along with a host of other purported benefits. Hi-Tech Pharmaceuticals Quercetin packs 250mg of Quercetin per tablet and features Hi-Tech's Cyclosome Delivery for improved absorption and bioavailability. 
Hi-Tech Pharmaceuticals Quercetin Product Highlights
Strengthens the Immune System
Supports Respiratory Health
Promotes Cardiovascular Health
Helps Fight Free Radicals
Helps Reduce Inflammation
May Help Relieve Allergy Symptoms
Does Quercetin Boost the Immune System?
Quercetin is known for its antioxidant activity in radical scavenging and anti-allergic properties which are characterized by stimulating the immune system, antiviral activity, and inhibition of histamine release. 
Directions
Take 1 tablet twice daily with a meal or a glass of water. 
Hi-Tech Pharmaceuticals Quercetin 120 Tablets Supplement Facts
Serving Size: 1 Tablet
Servings Per Container: 120
Quercetin 250mg
Quercetin [from Japanese sophora concentrate (flower bud)]
*Daily Value Not Established
Other Ingredients: Microcrystalline Cellulose, Phosphatidylcholine 75%, Hydroxy Propyl Beta Cyclodextrin (HPBCD), Pytosterols, Magnesium Stearate, Silica
Warnings
Store in a cool dry place.