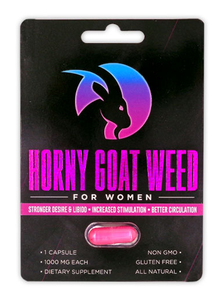 Horny Goat Weed: For Women
Horny Goat Weed For Women



Over the years of her life, a woman's sex drive can fluctuate. You may notice a decline in your libido during menopause, if you are ill or if you are taking anti-seizure or anti-depressant medications. A recurrent or persistent lack of interest in sex can affect your relationships and cause personal distress. Symptoms include:
Wanting to have sex less frequently than your partner does
Noticing your libido is weaker than it used to be
No longer having, or seldom having sexual fantasies
For women who are looking for a natural solution for a low libido, female enhancement pills containing horny goat weed, or epimedium, are one option to support a healthy female libido. Horny goat weed supplements are typically sourced from as many as 15 different species of the epimedium grandiflorum, a flowering plant indigenous to Japan, China, and Korea.  Although epimedium grandiflorum has more than 60 different species, only a small portion have medicinal value.
The active substance in horny goat weed is a flavonoid known as icariin. Icariin has the ability to naturally increase nitric oxide, which is important for female libido because it is the primary chemical transmitter of blood delivery to the genitals. For women, the increase blood flow to the clitoris helps to increase sexual arousal and the likelihood of reaching an orgasm.
Horny goat weed has several other health benefits for women, including:
Support Skeletal Health: One of the potent phytochemicals in horny goat weed is icariin. Research has determined that icariin may support blood circulation and improve bone health.