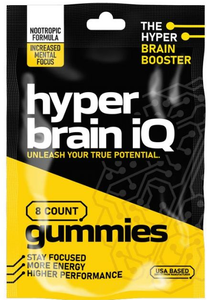 Hyper Brain iQ, 8 Count
Hyper brain iQ focus gummies taste great and are packed with our proprietary nootropic formula designed to help you stay focused to tackle any task. Take your memory, learning and focus to a new level with key nutrients that also help reduce your stress while improving your mood. Maintain a higher level of cognitive function with increased energy while remaining balanced and relaxed thanks to hyper brain iQ focus gummies.
Product Info
8 focus gummies per bag
Nootropic formula
Unleash your true potential
Stay focused
More energy
Higher performance
Made in the USA
Product Facts
Serving size: 2 gummies
Servings per bag: 4
Ingredients: Taurine, AlphaSize® 100P (α-Glyceryl Phosphoryl Choline), SerinAid® 70P (Phosphatidylserine 70% Powder), L-Theanine, Ginseng Extract, Caffeine, Vitamin B12 (as Methylcobalamin), Vitamin B6 (as Pyridoxine HCI), Riboflavin (Vitamin B2), Niacin (as Niacinamide) (Vitamin B3) and Vitamin C (as Ascorbic Acid)
Other Ingredients: Tapioca Syrup, Sugar, Natural Flavors, Pectin, Glycerin, Sodium Citrate, Citric Acid, Malic Acid, Lactic Acid and FD&C Yellow No. 5
Use responsibly. Do not drive or operate machinery while using this product. Do not take more than the amount recommended by your doctor. 
Must be 18 years or older to purchase or use.