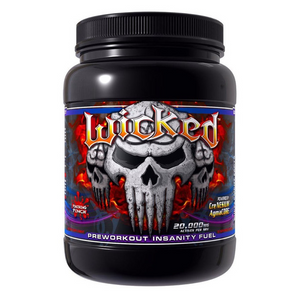 Innovative Labs: Wicked Pre Workout
Innovative Labs Wicked Pre-Workout w/ DMHA
**This is the new formula with DMHA** 
Innovative Labs is here with their first pre-workout insanity supplements powered by 70mg of DMHA and more! This pre-workout monster was formulated to maximize your workouts. With cutting edge ingredients at clinical studied doses, Wicked promises immediate mind blowing pumps, insane vascularity and more energy, more focus and more recovery than anything you have experienced in the past. And not only will it provide everything you need during your workout, it can also help you develop new muscle mass growth and increase strength. Innovative Labs has put together the perfect pre-workout supplement to ensure you get the best results during each and every workout.
Innovative Labs Wicked Pre-Workout Product Highlights
After just one dose of Innovative Labs Wicked, you can expect the following results:
Intense Energy
Extreme Focus
Skin Splitting Pumps & Vascularity
Improved Mood
Better Recovery Time
Increase Lean Muscle Mass & Strength
Why Does Wicked Work So Well?
It's the ingredients. Powerful cutting edge ingredients.
300mg of Caffeine
Beta Alanine
Creatine nitrate
Other huge doses of stimulants
And much, much more...
Directions
Innovative Labs has directions for taking this product on workout days and rest days. On workout days, start with 1 scoop pre-workout to access your tolerance. Than increase to 2 scoops pre-workout. On rest day, take 1 scoop each morning to help maintain your increase NO2 levels. Should be taken on an empty stomach. Can be taken by both men and women.
Ingredients / Label
Serving Size: 2 Scoops (11g)
Servings per Container: 30

Vitamin C 250mg 416%

Niacin (as Inositol Nicotinate) 400mg 2,000%

Vitamin B6:  20mg 1,000%

Inositol (as Inositol Nicotinate) 100mg *

N.O. Amplification Blend Matrix 5,000mg *

Beta Alanine, L-Citrulline Silicate, Red Wine Extract (standardized to 30% Glycerol)

Anabolic Cell Volumizer 4,010mg *

Creatine Nitrate, 2-Aminoethanesulfonic acid Silicate, Agmatine Silicate, (N-(aminoiminomethyl)-beta-alanine), D-Ribose, Creatinol-O-Phosphate

Neurogenic Energizers 390mg *

Caffeine Anhydrous, 2-Aminoisoheptane HCL, Histidine, Rauwolfia serpentina extract

Other Ingredients: Maltodextrin, Natural and Artificial Flavors, Citric Acid, Malic Acid, Sucralose, FD&C Red #40.
Warnings & Side Effects
These statements have not been evaluated by the FDA. These products are not intended to diagnose, treat, cure, or prevent any disease.