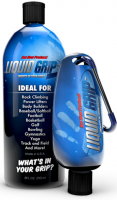 Liquid Grip, 1.5oz w/Carabiner
The goal is always to improve and perform better. The invent of invisible, liquid chalk helps you to train at your best without reapplication or worry.
You chalk your hands, perform one lift, and then you chalk again. Towards the end of your training session, chalking becomes pointless. It begins to hinder your progress instead of helping you achieve it. This is a common complaint in training circles. That is where Liquid Grip is far superior. One small application will last an entire Olympic lifting session or high intensity lifting period. No need to worry about tarnishing your gym's floors or your training gear. All of this while benefiting from the best grip assistance on the market.

Made in the USA from all natural products and 100% biodegradable.