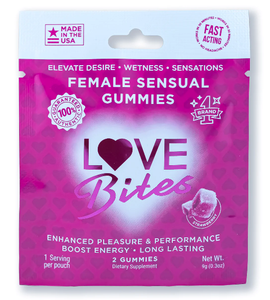 Love Bites: Female Sensual Gummies
In order to be sure you are maximizing the effect of CBD Love Bites, please be sure to:
Take as needed, not excessively (can be taken daily, no more than once every 6 hours).
Keep the Love Bites away from direct sunlight and store in a room temperature enivornment.
We recommend to drink one CBD Hangover Recovery Shot as needed when experiencing hangover symptoms.
Not intended for use under the age of 18.
Additional Information:
Each packet contains one serving of 2 gummies.
Non- GMO.
100% Natural Ingredients.
Non- GMO.
Can be enjoyed together or alone.
Plant-derived formula.
Made in the U.S.A.