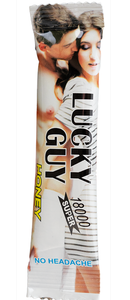 Lucky Guy: Super 18000 Honey
Lucky Guy Honey 
Lucky Guy Honey Sachets Active Ingredients Include:
A proprietary blend of Pure Honey, Caviar Powder, and Tongkat Ali Root.  Please see the label on the back of each formula for a complete list of ingredients. Please see the ingredients label on the packaging for the complete list of ingredients. Lucky Guy Honey Recommended Dose: 
Take one Lucky Guy Honey Sachet one hour before sexual activity with at least 12oz of water and stay hydrated.  Do not exceed one sachet in 48 hours. Do not take with other supplements or medications. 

Lucky Guy Honey Sachets are made in the United States. Use only as directed.  Store this product in a cool and dry place.
Caution:
Do not exceed the recommended daily intake.  Do not use more than one capsule within 4 days.
Consult your doctor before taking this pill.
Do not use this product if you have any medical condition including

Heart disease
High blood pressure
Seizures
Stroke
Cancer
Liver failure
Severe headaches
Allergies
Diabetes
Or any other condition.

Stop using immediately if undesirable effects develop.
Do not take this pill with anything that may have nitrate in it.
You must be 18 years old to take this supplement.
Keep away from children.