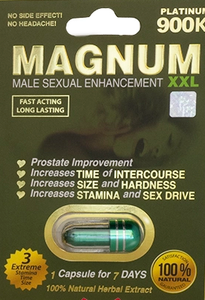 Magnum: Platinum 900k XXL Male Enhancement
Magnum Platinum 900K Pills
Magnum Platinum 900K Pills Active Ingredients Include:
A proprietary blend of Saw Palmetto, Epimedium, Ginseng, Wild Yam, Lycium, Raspberry, Euryale Ferox, Schisandra Fruit, Poria Fungus, and Longan Ari.  Please see the ingredients label on the packaging for the complete list of ingredients.
Magnum Platinum 900K Pills Recommended Dose: 
Take one Magnum Platinum 900K Pill with at least 12oz of water and stay hydrated.  Do not exceed 1 pill in 48 hours.  For best results, take one hour before sexual activity. Do not take with other supplements or medications.