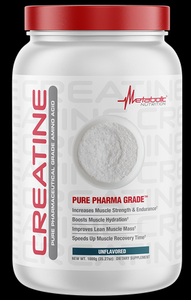 Metabolic Nutrition: Creatine Powder 1000g
Metabolic Nutrition Creatine 1000 Grams | Unflavored Creatine Powder
Creatine is one of the most popular and most well studied sports nutrition supplements. Creatine is used to increase muscle mass, increase strength, and boost exercise performance. Metabolic Nutrition's Creatine Powder comes with 300 grams per bottle and is unflavored making it great for adding to your pre-workout, protein shake, or beverage of your choice. 
Metabolic Nutrition Creatine Product Highlights
Promotes Lean Muscle Growth
Supports Increased Strength & Recovery
Boosts Muscle Hydration
Faster Post Training Recovery
Unflavored
What Are the Benefits of Creatine?
Improve Strength
Build Lean Muscle Mass
Help Muscles Recover Faster
Promotes Boosts of Speed/Energy
Metabolic Nutrition Creatine 1000 Grams Supplement Facts
Serving Size: 5g
Servings Per Container: 200
Creatine Monohydrate 5g
*Percent Daily Values 
Other Ingredients: Silicon Dioxide