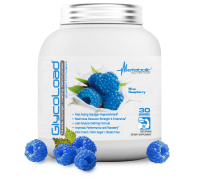 Metabolic Nutrition: GlycoLoad, 30 servings
Metabolic Nutrition Glycoload | 30 Servings
Carbohydrate Loading without the Body Fat!
The first carb loading supplement is here from Metabolic Nutrition. They have scientifically developed one of the most advanced carbohydrate supplements on the market today. Glycoload specifically targets glycogen production in your body...which allows you to "carb-load" your muscle in the most beneficial way. And it is done without all the negative effects like sugar...body fat gain, which no one wants.
Benefits & Results
More Muscle Size
Better Recovery
More Energy
Increased Vascularity
Bigger Pumps
More Endurance During Workouts
Increased Strength
Why is Glycogen So Important?
It is the key to storing energy in the body and using it to fuel more ATP./ This leads to better muscle contraction, blood dialation, more vascularity and better hydrated muscles. So instead of looking soft like with other carbohydrate powders, this product will leave you looking lean, hard and more defined than you have ever experienced before.
Why Carb Load?
It's been practiced by 1000's of athletes for decades, but even with complex training and optimal diets, athletes have failed to properly absorb and store those fat sugars. Until now with Glycoload.
Glycoload Vs Other Carb Supplements
While other carb supplements function uncontrollably in the body, this product is unique in that is is a single high-molecular weight. This allows for only one way to load glycogen into your body's muscles. And instead of processing through stomach digestion, this products enters the lower GI tract for slow assimilation into the bloodstream. This means more glycogen. This in turn means more muscle size, more endurance, more strength and much faster recovery, especially after very long workouts.
Easier to Mix than other supplements
No gas like other supplements
No cramping or bloating
Zero Sugar
Flavors
If you know Metabolic Nutrition, you know that their flavoring system is on point. Not only doesn this product work, but it tastes amazing!
Blue Raspberry
Watermelon
Unflavored
Fruit Punch
Green Apple
Directions & Dosage
Metabolic Nutrition recommends taking 1-3 scoops of Glycoload per day depending on your training requirements. If can be taken anytime during the day for an energy boost, pre-workout for more energy, intra workout for more energy and pumps or post-workout for recovery. Many customers take 1 scoop pre-workout, 1 scoop intra workout and finally 1 scoop post workout.
Can Women Take Glycoload?
Yes, women can take this product as well. It contains nothing hormonal so it is perfectly safe for both men and women.
Can I Stack this With other Metabolic Nutrition Products?
Yes, this can be stacked with any other product from Metabolic Nutrition.
Metabolic Nutrition Glycoload Ingredients & Label