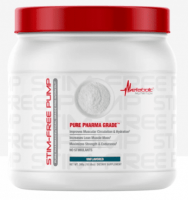 Metabolic Nutrition: Stim Free Pump, Unflavored, 300g
Metabolic Nutrition recently relaunched its stimulant-free pre-workout PSP, packed with 40g of active ingredients. While a lot of the products that fall into the stim-free pre-workout category are mostly about enhancing pumps, that's not the case with PSP. The brand takes a more comprehensive approach on this one, including ingredients for performance, endurance, and focus, as well as pumps. The team at Metabolic Nutrition has now come out with another stim-free pre-workout specifically for that more common angle of enhancing pumps. The brand has given the supplement a much simpler name with 'Stim-Free Pump', and thrown in a handful of ingredients.
Each serving of the product includes 3g each of beta-alanine, citrulline malate, and glycerol, 250mg of agmatine, and 725mg of Cluster Dextrin.