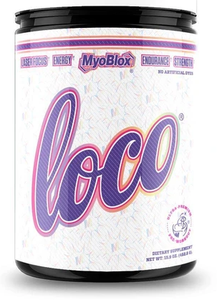 MyoBlox: Loco
Focus & Energy Delivering Pre-Workout Formula - MyoBlox Loco
If you're looking for the newest & hottest pre-workout formula, look no further. MyoBlox Loco is not only absolutely delicious, but it also has a whopping dose of Beta-Alanine & Caffeine to help you power through your workout. MyoBlox Loco comes in a variety of unique flavors & will help to promote tunnel vision & balance energy levels. Step up your workout game & get a potent pre-workout today!! Introducing MyoBlox Loco!!
MyoBlox Loco Benefits
Intense Pre-Workout Performance
Promotes Tunnel Vision Focus
Promotes Balanced Energy Levels
Boosts Muscle Volume & Pumps
Boosts Endurance & Strength
How Do I Take MyoBlox Loco?
MyoBlox recommends using only on training days. Mix one to two (1-2) Scoops with six to twelve (6-12) Ounces of Water and consume. Take 10-20 minutes prior to training.
MyoBlox Loco Ingredients
Serving Size: 1 Scoop
Servings Per Container: 36
Vitamin C (Ascorbic Acid) 125mg 
B3 (Niacinimide) 20mg 

B6 (As Pyridoxal-5'-Phosphate [P5P]) 2.5mg 

B9 (Folic Acid) 100mcg 

B12 (Methylcobalamin) 500mcg 

Loco Super Matrix 2,000mg: Betaine Anhydrous 3,000mg, Beta-Alanine 2,000mg, Taurine 2,000mg
Magic Matrix 1,305mg: L-Tyrosine, RealCaf (Caffeine Derived From Non-GMO Green Coffee Bean), Velvet Bean (Mucuna Pruriens) Seed Extract, Elevatp (As Ancient Peat, Apple Extract), Citrus Aurantium, Halostachine, Hordenine HCI, N-Methyltyramine, Huperzia Serrata Whole Plant Extract As Huperzine A

BioPerine (Black Pepper Extract) (Fruit) 7.5mg
Other Ingredients: Citric Acid, Natural & Artificial Flavors, Silicon Dioxide, Malic Acid, Sucralose, Calcium Silicate, Acesulfame Potassium.
MyoBlox Loco Side Effects & Warnings
Do not consume more than the recommended dose. To avoid sleeplessness do not take within 6 hours of going to sleep. Do not consume more than 2 Scoops simultaneously or exceed 2 Scoops in any 24-hour period. Store in a cool, dry place. Keep out of reach of children.