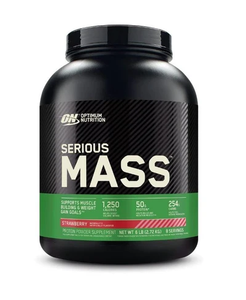 Optimum: Serious Mass, 6lb
Optimum Nutrition Serious Mass 6lbs | Mass Gainer For Hard Gainers
Optimum Nutrition's Serious Mass is the Ultimate Mass Gainer and Muscle Building Supplement. This formula packs in 1250 calories per 2 scoop serving along with 50 grams of protein, 250 carbs, 3 grams of creatine, and 25 essenital vitamins and minerals your body needs. This supplement helps to build and maintain muscle and will help hard gainers put on some muscle mass. 
What is Serious Mass?
Optimum Nutrition's Serious Mass is the ultimate in weight gainer formulas. Serious Mass packs 1250 calories per serving along with a whopping 50 grams of protein, and 250 carbs, along with 25 essential vitamins and minerals. If you find that no matter how much you try to eat you still can't put on weight and/or muscle mass, give Serious Mass a try!


Can I Stack Serious Mass With My Normal Protein Powder?
Optimum Nutrition does not recommend taking your standard protein powder on top of Serious Mass. Serious Mass will more than satisfy your nutrition and protein needs on its own. 
Optimum Nutrition Serious Mass Product Highlights
Contains 1250 Calories Per Serving
50 Grams of Protein Per Serving
Helps Build & Maintain Muscle
250 Carbs Per Serving
3 Grams Creatine Per Serving
Contains 25 Essential Vitamins & Minerals
Directions
Mix 2 scoops with 24 ounces of cold water or milk. Mixes great with fruits and greens as well. New users should begin with a 1 scoop half serving. 
Optimum Nutrition Serious Mass 6lbs Supplement Facts

Serving Size: About 2 Heaping Scoops (336 g)

Servings Per Container: 8

Calories 1,250
Total Fat 3.5 g 4%*
Saturated Fat 2 g 11%*
Cholesterol 105 mg 35%
Total Carbohydrate 254 g 92%*
Total Sugars 20 g **
Includes 10g Added Sugars 21%
Protein 50 g 100%*
Vitamin A (as beta-carotene) 940 mcg 104%
Vitamin C (as ascorbic acid) 60 mg 67%
Vitamin D (as cholecalciferol) 5 mcg 25%
Vitamin E (as d-alpha tocopherol succinate) 20 mg 133%
Thiamin (as thiamin mononitrate) 4.8 mg 400%
Riboflavin 4 mg 308%
Niacin (as niacinamide) 50 mg 313%
Vitamin B6 (as pyridoxine hydrochloride) 5 mg 294%
Folate (as folic acid) 680 mcg 170%
Vitamin B12 (as cyanocobalamin) 11 mcg 458%
Biotin (as d-biotin) 300 mcg 1,000%
Pantothenic Acid (as d-calcium pantothenate) 25.6 mg 511%
Choline (as choline bitartrate) 250 mg 45%
Calcium (as calcium citrate, dicalcium phosphate) 640 mg 49%
Iron (as ferrous fumarate) 6 mg 33%
Phosphorus (as dicalcium phosphate, dipotassium phosphate) 490 mg 39%
Iodine (as potassium iodide) 53 mcg 35%
Magnesium (as magnesium aspartate) 125 mg 30%
Zinc (as zinc citrate) 15 mg 136%
Selenium (as selenomethionine) 71 mcg 129%
Copper (as copper gluconate) 1 mg 111%
Manganese (as magnesium aspartate) 2 mg 87%
Chromium (as chromium polynicotinate) 120 mcg 343%
Molybdenum (as molybdenium amino acid chelate) 80 mcg 178%
Sodium 570 mg 25%
Potassium (as dipotassium phosphate) 890 mg 19%
Creatine Monohydrate 3 g **
L-Glutamine 500 mg **
Inositol 250 mg **
PABA (para-aminobenzoic acid) 5 mg **

* Percent Daily Values are based on a 2,000 calorie diet
** Daily Value not established