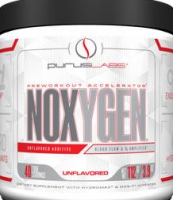 Purus Labs: NOXygen, Unflavored 40 servings
Purus Labs Noxygen - Unflavored 40 Servings
The Most Powerful Non Stimulant Pre-Workout Ever Formulated for Pumps!
**If you see a clumping in this formula, that is completely normal. Put it in your drink and shake it or in a blender and enjoy!** 
Are you looking to take your pump and workout to the next level? Introducing the totally stimulant-free, unflavored pre-workout supplement from Purus Labs called Noxygen!
Features Nitratene (For Vascularity)
Features NO3 TMG (new, naturally occuring oxygen preserving amino acid bound nitrate)
Features Hydromax (Intracellurlar volumizing)
Features Noxygen (Ultimate Pre-Workout Accelerant)
Why Try Noxygen: The Benefits
Instant Cell Volumization
Stimulant Free Pre-Workout
Unflavored so you can mix it with anything
Use as a standalone supplement or mix it with your favorite stimulant pre-workout
20 to 40 Servings
Noxygen Directions
Add 1 to 2 scoops to a pre-workout supplement for the most pumps throughout your workout. Here at Best Price Nutrition, we recommend stacking Noxygen with Purus Labs Condense and Creagyn for an incredible workout.
Purus Labs Noxygen Unflavored 40 Servings Ingredients
Serving Size 1 scoop
Servings Per Container 40

Amount Per Serving
Carbohydrates 1.5g
Sugar Alcohol (as HydroMax® glycerine) 1.5g
Sodium 65mg
NO3-TMG™ Blend: 740mg
Beet Root Extract (std. min. 70% betaine ni- trate), Nitratene™ (FCC-grade sodium nitrate)
Other Ingredients: Silica, calcium silicate.
Warnings
Store in a cool dry place after opening.