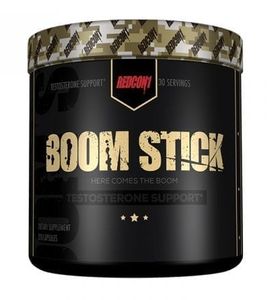 Redcon1: Boom Stick, 300 Capsules
Natural Testosterone Support
Promotes An Anabolic State
Inhibits Estrogen
Testosterone is one of the main anabolic hormones in the body and is responsible for a number of things, such as muscle growth, strength, and energy. It's no accident that as we get older, we begin to lose muscle mass and strength, as well as experience a lack of energy. In fact, if you're 25 or older, your natural levels of testosterone are on a downward spiral. By the time you've reached your 40's, your natural production is a mere shadow of what it used to be.
It doesn't have to be this way – you can fight back with Boom Stick by Redcon1!
Boom Stick supports your body's natural testosterone production so you can combat lower levels that occur naturally as we get older – and it supports test levels in younger men too! More test means you can hang on to more muscle mass and strength – not to mention experience less fatigue and improved performance in the bedroom! Boom Stick features a fully disclosed, generously dosed formula using only effective ingredients such as D-Aspartic Acid, Ashwagandha, Zinc, Magnesium, and Fenugreek, to name just a few.
You don't have to suffer the effects of low testosterone when you can count on Redcon1 to Drop The Boom With Boom-Stick!
Servings Size: 9 Capsules
Servings Per Container: 30
Amount Per Serving
Vitamin D3 – 3300 iu
Magnesium – 100 mg
Zinc – 30 mg
D-Aspartic Acid – 3120 mg
Ashwagandha Root- 1 Gram
Tribulus Terrestris – 750 mg
Fenugreek Extract – 600 mg
DIM – 250 mg
Nettle Root – 175 mg
DHEA – 160 mg