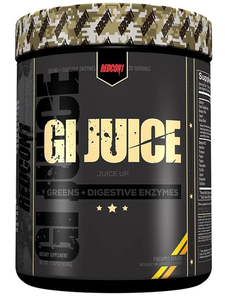 Redcon1: GI Juice, 30 Servings
Redcon1 GI Juice 30 Servings
Do you have a hard time eating your fruits and veggies? Not to worry, because Redcon1 is here to help you make sure you get all of your greens with GI Juice. This superfood supplement is loaded with micronized fruits and vegetables – so you can meet all of your daily nutritional requirements all in one delicious beverage. Serious athletes require serious nutrition, and the ultimate foundation for optimal performance is plenty of greens. Skipping out on your greens can cause nutrient deficiencies, sluggishness, illness, and most importantly, decreased athletic performance. Whether you have a busy on the go lifestyle or you just don't like the taste of vegetables, you don't have to let your body go without the nutrition it needs!
GI Juice makes it easy for you to get in your greens while also providing some added benefits from probiotics and digestive enzymes, which support a healthy gut. What's more, GI Juice is loaded with antioxidants, keeping your immune system working properly so you can keep training hard day after day. Each scoop of GI Juice is brimming with micronized fruits and vegetables normally found in the human diet, plus additional superfoods like spirulina, wheatgrass, and kelp. If you're ready to give your body the nutrients it craves, you need to try GI Juice. Order your tub of GI Juice by Redcon1 today and feel the difference in your energy and the way you train!
Redcon1 GI Juice Benefits
Complete greens formula
Added digestive enzymes
Packed with micronized fruits and vegetables
Loaded with antioxidants
Supports immune health
Delicious pineapple banana flavor
How To Take GI Juice
Redcon1 recommends consuming 1-2 scoops daily to meet your nutritional needs.
Redcon1 GI Juice Supplement Facts
Serving Size: 1 Scoop (15g)
Servings Per Container: 30
Amount Per Serving
Calories: 28
Total Carbohydrate: 7g
Dietary Fiber: 2g
Sugars: 5g
Green Blend: 11.25g
Blueberry fruit powder, black raspberry powder, mulberry leaf powder, bilberry leaf powder, papaya juice powder, camu camu, luo han guo (monk fruit), broccoli powder, carrot powder, purple sweet potato powder, kelp, fructooligosaccharides (FOS), Chlorella, Papain, Bromelain, Pyrroloquinoline quinone (PQQ), Acai Juice Powder.
Betaine HCL: 250mg
Amylase: 100mg
Protease: 100mg
Pepsin: 50mg
Papain: 50mg
Pancreatin: 50mg
Ox Bile: 30mg
Lipase: 25mg
Bromelain: 10mg
Cellulase: 10mg
Ingredients
Silica, citric acid, malic acid, natural and artificial flavoring, calcium silicate, sucralose