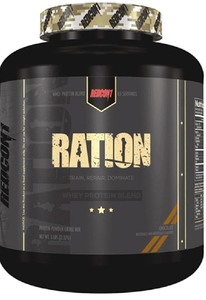 Redcon1: Ration 5lb
$5999

$59.99

Save $-59.99
---
---
RedCon1 Ration 5lbs
If you're looking for a Whey Protein is a treat to your taste buds and a healthy serving of whey protein hydrolysate and concentrate ready to give your muscles what they need for even the most intense workout. Ration has been compared to being the Swiss Army Knife of supplements. It's versatile and has a strong amino acid profile. Sip it throughout the day or chug it before a heavy workout. Ration is also a great option as a cooking protein due to the taste. By supplementing with Ration you are putting yourself in the most ideal anabolic state for losing fat and building lean muscle. If you're looking to take your training to the next level, definitely look at adding Ration to your daily supplement regimen. 
Product Features
Repairs Muscles

Great Cooking Protein

Hydrolysate & Concentrate Blend

Tastes Delicious and Mixes Well
Supplement Facts
Serving Size: 1 Scoop (35g)*
Servings Per Container: 65*
Calories   150*
Calories from Fat   150*
Total Fat   4g*
Saturated Fat   1.5g*
Cholesterol   55mg*
Carbohydrate   4.5g*
Sugars   2g*
Protein   24g*
Calcium   225mg*
Sodium   180mg*
Potassium   290mg*
Iron   111mg*
*Percentage Daily values based on a 2,000 calorie diet.
*Daily Value (DV) not established
Other Ingredients: Whey protein hydrolysate, whey protein concentrate, natural and artificial flavors, red russet, cocoa powder, cellulose gum, xanthin gum, salt, sucralose, acesulfame potassium.