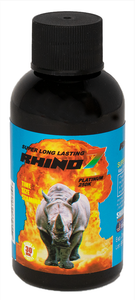 Rhino: Rhino 7, Super Long Lasting Liquid Shot
Rhino 7 Platinum 250K Shooters
Rhino 7 Platinum 250K Shooters Active Ingredients Include:
A proprietary blend of Yohimbe, L-Arginine, Zinc, Copper, Manganese, Red Ginseng, Soy Beans, Soy Paleto, and Tribulus Terrestris. Please see the ingredients label on the packaging for the complete list of ingredients.
Rhino 7 Platinum 250K Shooters Recommended Dose: 
Take one Rhino 7 Platinum 250K Shooter with at least 12oz of water and stay hydrated.  Do not exceed 1 bottle in 48 hours.  For best results, take one hour before sexual activity. Do not take with other supplements or medications.