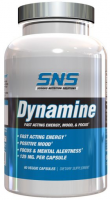 SNS: Dynamine, 60 Capsules
Serious Nutrition Solutions Dynamine 60 Capsules
Dynamine is a patented branded form of methylliberine which is an alkaloid found in coffee beans and tea leaves and which is often used as a supplement to promote energy and alertness. Dynamine is known for increasing energy, mood and alertness which is why it's a popular ingredient used in a lot of preworkout supplements and even fat burners. Serious Nutrition Solutions Dynamine is a single ingredient dedicated Dynamine supplement which packs 125mg of Methylliberine into each capsule. This can be taken as a stand alone supplement or stacked with something like SNS Focus XT for even more energy and focus!
SNS Dynamine Product Highlights & Benefits
Fast Acting Long Lasting Clean Energy
Supports a Positive Mood & Mindset
Promotes Alertness and Increased Focus
Each Capsule Contains 125mg Methylliberine
Directions
Take 1 capsule either once or twice per day. For best results take one in the morning and another 30 minutes prior to working out.