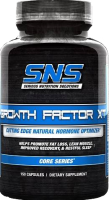 SNS: Growth Factor XT, 150 Capsules
Cutting Edge Natural Hormone Optimizer*
Growth Factor XT is an exciting, revolutionary all-natural anti-aging product that can help you make the most of your workouts while helping minimize the fatigue of everyday life.
Ask yourself a few questions:
Are you stuck in a rut?

Are you lacking motivation to train?

Find yourself not recovering in time for the next workout? Or not recovering the way you used to?

Find yourself feeling just 'not yourself' anymore?
If you answer yes to any of the above questions, you owe it to yourself to keep reading about this exciting product – Growth Factor XT.
Growth Factor XT May Help Support Improvements in:
Quality of Life & Sense of Well Being*

Recovery Between Workouts*

Fat Loss*

Sleep Quality*

Sexual Health*

Stress and Anxiety Levels* (Something all of us could use in this crazy, busy world that we live in)
Growth Factor XT Highlights:
All Natural Formula (Does not require PCT (Post Cycle Therapy))*
Insane Number of Potential Benefits from One Product*
Anabolic and Anti-Catabolic Benefits*
May Help Optimize Testosterone Levels *
May Help Decrease Prolactin Levels*
Why Growth Factor XT?
Growth Factor XT isn't just another product that falls into an existing category of anti-aging or hormone optimizing products.  Growth Factor XT raises the bar for both categories and is so advanced that it creates its own, advanced unique product category all to itself.
The cutting edge Natural Hormone Optimization Matrix of all natural ingredients in Growth Factor XT delivers a huge variety of benefits that is almost unheard of in a single product. This exciting formula doesn't stop with giving you just one, two, or even three incredible ingredients – it gives you 8 exciting ingredients all in one extraordinary formula. And on top of the fantastic variety of benefits from these as standalone ingredients, there is the incredible synergy of some of these ingredients working together to lead to even better results.
Even more good news – in spite of Growth Factor XT's formula being so dominant in both the anti-aging and GH product categories (so dominant in fact that it doesn't belong in those categories, it belongs above those categories), it is still more cost effective than most products in either of those product classes.
More Cost Effective than most Anti-Aging & GH Enhancing Products
Yet so Advanced that it creates a Category All to Itself!